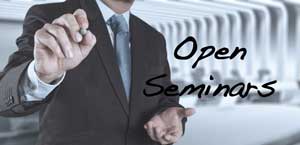 Open seminars have been regularly held since 2008. Participants of the seminars will be able to improve specific skills through case studies, group work, discussions or presentations. Through working with other aspiring individuals, participants can then see the world with different perspectives which will in turn motivate them in their career.
Due to the risk from the COVID-19 and in the interest of safeguarding your health and safety, we have changed the format to webinars and developed a wider range of topics so you can continue to gain essential knowledge and sharpen your skills at the comfort of your home or office.
Please contact Mr. Tamura or Ms. Celia Lam on 2577 8002 for application and enquiries.
* Please note that a minimum of 12 participants is required for all webinars.
* Certificate will be issued after attending the webinars.
* You can enjoy 10% off if you enroll in two and more webinars.