We provide a wide range of language and business skills training programmes for a variety of industries and positions in Hong Kong and Macau, tailoring each programme to best meet each client's needs.
Using methods and techniques developed and polished from our affluent experience in Asia, we strive to give realistic and practical training to our zealous trainees.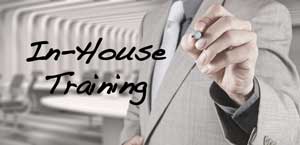 【Region : Hong Kong】
【Languages : Japanese, English, Mandarin, Cantonese】
In-house classes are composed of 4 to 20 students and are intended for busy professionals to take lessons at their own offices
The curriculum can be customized to suit your needs and purposes (e.g., regular weekly / biweekly classes, intensive classes)
※ Private lessons can be arranged for those who are seeking small group or one-on-one lessons. Please contact us for more information.
Specialized in manpower training, we provide business training courses aimed at developing skills for new recruits, communications, management and so forth.
Programmes for various positions and aims
We provide various programmes to meet your company's needs.
Basic Japanese Business Manner
Coaching for Performance
Effective Negotiation Skills
Effective Sales and Customer Service
Effective Sales and Presentation Skills
Facilitation Skills
Financial Decision Making
Global Management
HORENSO and PDCA
Leading a Multi-Generational Workforce
Leading for Results
Logical Thinking
Managing Conflicts at Work
Proactivity and Positivity
Navigating Through Change
Team Visioning and Working
Time Management
Train-the Trainer
Airlines
All Nippon Airways Co., Limited
Hotels
Crowne Plaza Hong Kong Causeway Bay
The Excelsior, HK
GardenEast Management Limited
Gateway Hotel
Incheri Limited T/A ALVA HOTEL BY ROYAL
The Holiday Inn Golden Mile
The Hyatt Regency HK
The Hyatt Regency HK, Tsim Sha Tsui
The InterContinental HK
The Island Shangri-La HK
The Kowloon Hotel HK
The Kowloon Shangri-La Hotel HK
The Landmark Mandarin Oriental HK
Marco Polo Hongkong Hotel
The Novotel Century HK
Panda Hotel
Park Hotel International Limited
The Peninsula HK
Prince Hotel
The Renaissance Harbour View Hotel HK
Royal Park Hotel
Royal View Hotel
The Sheraton HK Hotel & Towers
Property Management
HKR International Limited
Hong Yip Service Co. Limited (a member of Sun Hung Kai Properties Group)
K11 Concepts Limited
Kai Shing Management Services Limited (a member of Sun Hung Kai Properties Group)
Restaurants
Genki Sushi HK Limited
Neway Karaoke Box Limited
Panash Limited
Suntory F&B International (H.K.) Co., Ltd (Pepper Lunch)
Watami (China) Company Limited
Retail Shops
759 Store
Aesop Hong Kong
ALF Retail Hong Kong Limited (Marks and Spencer)
Ferragamo Retail HK Limited
G2000 (Apparel) Limited
Hang Lung-Hakuyosha (HK) Limited
Hermes Boutique
Imaginex Group (Aveda, Coach and Marc Jacobs)
Initial Fashion Co., Limited
Jusco Stores (HK) Co., Limited
Kose (HK) Co., Limited
LVMH Fashion Division (Celine, Loewe and Emilio Pucci)
Peach John Hong Kong Co Limited
Shiseido Hong Kong Limited
Tom Lee Music Co. Limited
Under Armour Asia Limited
Wacoal International HK Co. Limited
Schools
Chan Shu Kui Memorial School
Diocesan Boy's School Primary Division
HKMA David Li Kwok Po College
Marymount Primary School
Our Lady's College
St. Joseph's Anglo-Chinese Primary School
St. Paul's Convent School (Primary Section)
The Hong Kong Polytechnic University
Others
8088 Management Limited
About Capital Management (HK) Co., Limited
Careyou International Limited
Carter's Global Sourcing Limited
Celestica HK Limited
Christian Family Service Centre
Global Knitwear Co., Limited
Lantro (HK) Limited
Loomis International (HK) Limited
LWK & Partners
McGraw-Hill International Enterprises, Inc.
PCCW Limited
Rotam Agrochemical Co., Limited
SNP Vite Limited
The Jockey Club CPS Limited
Watermark Products
Zeleritaz Racing Sports Limited
Japanese Companies
Alpine Electronics Hong Kong Limited
Alps Electronics HK Limited
Bandai (HK) Co., Limited
Bridgestone Electro-Materials (HK) Limited
Canon Engineering Hong Kong Co., Limited
Canon Hong Kong Co., Limited
Dexerials Hong Kong Limited
Fuji Xerox Far East Limited
Fujitsu Hong Kong Limited
Fujitsu Microelectronics Pacific Asia Limited
Gunze International Hong Kong Limited
Hakuhodo Hong Kong Limited
Hakuto Enterprises Limited
Hirose Electric HK Trading Co., Limited
Hitachi Cable Asia Limited
Hitachi East Asia Limited
Honda Connectors (HK) Limited
Hong Kong Hosiden Limited
Hong Kong Yakult Co., Limited
Inaba Rubber Hong Kong Limited
Ingram Micro (HK) Limited
ISI-Dentsu of Hong Kong Limited
Kaken Hong Kong
KOA Electronics (HK) Limited
Kyocera Mita Industrial Co., (HK) Limited
Max Co. (HK) Limited
Minebea (HK) Limited
Mitsubishi Chemical Hong Kong Limited
Mitsubishi Corporation (Hong Kong) Limited
Mitsubishi Elevator Hong Kong Co. Limited
Mitsubishi Heavy Industries (HK) Limited
Mitsui & Company (Hong Kong) Limited
Mitsumi Electric Co., Limited HK Branch
Nagase (Hong Kong) Limited
NEC Electronics HK Limited
Nippon Seal HK Co. Limited
Nipponkoa Insurance Co., (Asia) Limited
Nissei Electric (HK) Co., Limited
Nomura Research Institute HK Limited
Noritz Electronics (HK) Technology Co. Limited
O.R. Time (HK) Limited
Okaya International (HK) Limited
Oki Electronics Limited
Olympus HK & China Limited
Otsuka Pharmaceutical (HK) Limited
Panasonic Shun Hing Industrial Sales (HK) Co., Limited
Pioneer (HK) Limited
Polatechno (HK) Co. Limited
Polyplastics China Limited
Promise (HK) Co., Limited
Sanyo Denki (HK) Co., Limited
Seiko Instruments (HK) Limited
Shin Nichi Electronic Device (HK) Limited
Shin-Etsu Polymer Hong Kong Co., Limited
Socionext Technology Pacific Asia Limited
Sumitomo Mitsui Banking Corporation
Toshiba Electronics Asia, Limited
Uchida Yoko Global Limited
Ushio Hong Kong Limited
Yamato Transport (HK) Limited
YKK Hong Kong Limited